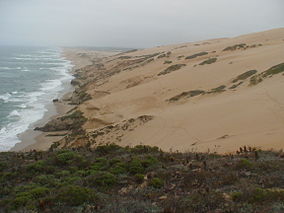 Search Nipomo Real Estate
Nipomo is a historical town with its coastal position sometimes called the begining of the Central Coast. The Nipomo Mesa is home to three major golf courses just a short drive apart. Blacklake Golf Resort, Monarch Dunes, and Cypress Ridge are all world class courses with surrounding homes each with their own unique flavor. The prevalence of golf has lead some to refer to Nipomo as a mini Pebble Beach, only with better weather.
The Almanac rated the area as having the best overall climate in the nation. Along with the golf came fabulous new restaurants as well as the two finest day spas on the Central Coast. Agriculture continues to be the dominant business in Nipomo with dozens of greenhouses providing cut flowers nationwide, orchards filled with citrus and avocados and fields of strawberries and vegetables. See Nipomo's Visitor's Guide.
Find Nipomo Real Estate, Homes, Condos, Mobile homes, Luxury Homes and Land here: